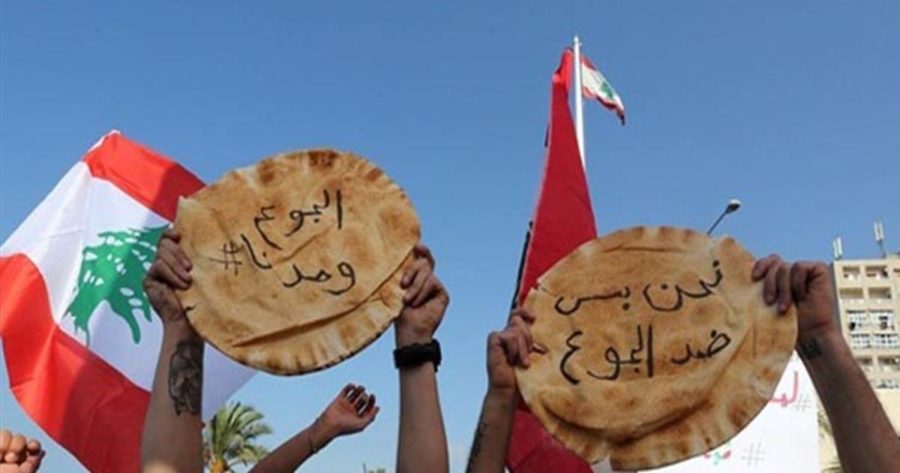 In contrast with the state of the country, Lebanon's south is witnessing an increased purchasing demand for all products and commodities. Cars are lined up at gas stations for hours to fill up 10L or less. Clashes over picking up subsidized products at the cooperative supermarkets have increased, and a striking demand to buy US dollars at any price persists despite continuously rising prices!
Meanwhile, money exchangers continue to refrain from selling more than a handful of dollars. In response, tires were burnt across the streets connecting many towns. On the other hand, Twitter users are celebrating 10 fuel loaded trucks crossing the Iraqi border, from Iran, heading towards Lebanon! While at the same time, Hani Kobeissy, an AMAL movement PM, complains that hundreds of cars are lined up in from of gas stations in the south while other regions do not have the same number of shortages, as were things during the war, because fuel importers are distributing preferentially between the different regions.
A Return to the 20's
Everything seems to suggest that things are taking a turn for the worst. This sends thoughts back to the days of famine, need, and poverty of the twenties and forties of the past century. Back then, during the French Mandate government (1938-1945), the government would distribute, through state institutions, rice, sugar, and oil to families through a "rations coupon". One of those coupons issued by the municipality of "Achrafiyyeh" dated 1938, which can be seen today, allows the holder to obtain 12kg of flour per week.
Another document pictured in an archive by Dr. Hasan Diab (The Social and Cultural History of Tyr) dates back to the 1940's. It includes a letter from the Mayor of Tyr at the time, Jean Aziz, addressed to the governor of the South, informing him about the food quantities available in Bint Jbeil. What was available was as follows:
Tyr: 600 kg of rice, 5,000 kg of sugar, 600 kg of coffee.
Bint Jbeil: 2500 kilograms of rice, sugar 2000 kilograms, 200 kilograms of coffee
Juwaya: 1000 kilograms of rice, sugar 1500 kilograms, 50 kilos of coffee.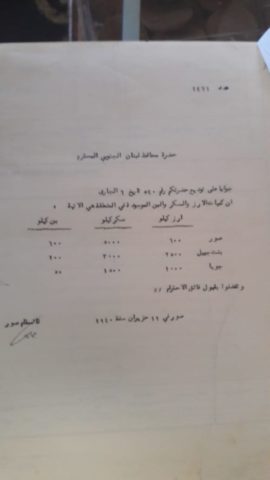 The 1 Lira Daily Wage!
In recollection of the days of famine and poverty, Haj Moussa Haydar remembers a time, which felt like a dream, when his mother took him by the hand to the Mayor's house, who was Mohamad Khalil Hammoud back then; in order to receive from the center approved by the French Mandate, a kilogram  of red sugar for 1 Lira. Back then, 1 lira was the daily wage of railway workers who laid the steel for the train tracks heading to Ras al'Naqoura.
"Oh how familiar today seems. Once again, 1kg of sugar is worth at least half of a day's wage in price…"