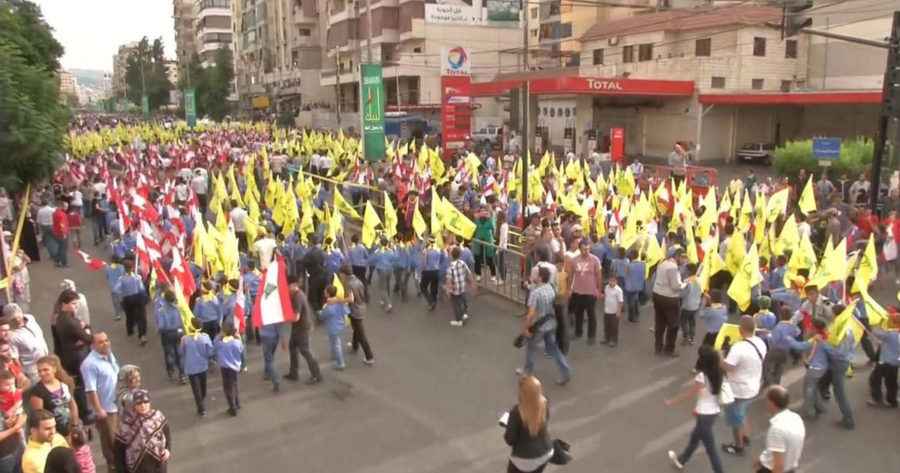 Mazloum, son of the martyred commander Hussein Ali Mazloum, who is known as Hajj Walaa continues to expose the scandals of the Party of Nasrallah through his personal Facebook page.
Walaa is currently facing prosecution by Hezbollah's Liaison and Coordination Unit Director WafiqSafa due to his statements that seem to hit hard within Hezbollah supporters ranks. The scandals he is exposing are shaking the sanctimonious image of Hezbollah's leaders who have for long enjoyed protection from all accountability or even questioning.
Read more: Hezbollah: Where Weapons Don't Matter
In a post on his Facebook page, Mazloom describes an account concerning "Hezbollah's most corrupt individual" the head of the transportation unit- AKA unit 4400- Mohamad Jaafar Kassir born 1967 in the southern town of Deir KanounNahr. His is the brother of Martyr Ahmad Kassir who committed a suicide bombing in an 1982 targeting an Israeli occupied building in Tyr.
US Sanctions
In May of 2019, Mohamad Jaafar Kassir's name – AKA Hajj Fadi– was listed on the US sanctions list. The US Treasury stated that Kassir is the financial officer of Hezbollah and responsible for transporting Iranian weapons from Syria to Lebanon. The US accused Kassir of mediating financial transfers from Iran's Qods Force to Hezbollah. Kassir is also in charge of the precision arms transfer unit of Hezbollah. He is well known as the person trusted with sensitive duties in Hezbollah which include illegal activities such as tobacco and drug smuggling from Syria to Lebanon.
A Stroke of Fate
Walaa explained that Mohamad Kassir had many military pseudonyms such as 'Fadi' and 'Hajj Majid'; the latter being the most reputable in the last few years during his time as one of the most influential and corrupt individuals within the ranks of Hezbollah.
'Hajj Majid' began his journey with corruption in the year 2008 as Hezbollah started to expand within Syrian territory and the jurisdiction of his transport unit expanded and its budget grew exponentially in tandem with its new responsibilities. This opened to him the gates of fame and fortune especially after the assassination of Mostafa Badreddine who was a thorn in his side and whom he sought continuously to undermine and obstruct his activities and influence. Disagreements between the two often reached disagreement to the point of disconnect. Knowledgeable sources within Hezbollah confirm the Hajj Majid was the first to arrive the murder scene of Mostafa Badreddinein his Palace near Damascus International Airport.
Iranian Support
Mazloum continued: The tasks entrusted to Hajj Majid allowed him to build wide relations with leaders in the Iranian Revolutionary guard while his relations with the Syrian Regime also improved during the years of the Syrian conflict. He gained tremendous financial control as well as security capabilities that included Damascus Airport, Syrian sea ports as well as border points on the Syrian-Iraqi as well as Lebanese borders. Following that, it appeared that he began to use his position effectively, choosing to forgo real resistance and instead working full time in building wealth, palaces and enjoying worldly pleasures pursuing the words of the Quranic verse that says: "and do not forget your share of earthly life".
Being in charge of the transportation unit in partnership with Iranian officers, he decided to transport (or smuggle) tobacco, rugs, and other Iranian products from Syria to Lebanon in addition to smuggling cigarettes and storing them in large warehouses in the Southern Suburb of Beirut. He did that in partnership with a person from Rabah family through Hezbollah vehicles that are not searched by any of the Syrian or Lebanese authorities. Some of his close relatives who work with him have taken advantage of their positions to smuggle drugs from Lebanon to Syria and other Arab countries in addition to smuggling weapons, merchandise, and even people from Syria into Lebanon for huge amounts of money. All that happened under the direct supervision and protection of Hajj Majed. It should be noted that his brother Ali Kassir is also partner in many smuggling operations, especially between Syria and Iraq, and with him several party officials whom will be mentioned in later articles.
Competing with Allies on Steel
Mazloum notes that last year, Hajj Majid introduced thousands of tons of bad Iranian steel to Lebanon through Syria and Iraq, and he also partnered with a Shiite businessman in various quarries which he used to hide and sell the smuggled steel. It is also said that he has worked multiple times with the Fattouch Family.
3 Wives and Enormous Fortunes
Walaa Mazloum tells the tale of Hajj Majed's fortune which accumulated quickly and made him from a head of a unit into a head of a financial empire that extends from Tehran to Beirut. He opened a high end restaurant in Lebanon named "Marjouha" (Swing) with two branches, one in Tyr and the other in Hadat, both managed by his second wife. One of his major partners is a man from 'Al-Hedwan' family who is close to the secretary general of Hezbollah. He also built a palace in Al-Meshref part of the Chouf district that reportedly cost millions of dollars, in addition to buying up thousands of acres of real estate which he filled with many Arabian horses he stole from Syria during the war. He often justifies his wealth to those around him saying that they belong to his second wife who received millions from her ex-husband. Not long after however, he married his third wife who is said to be the daughter of the former governor of the Syrian Central Bank.
The Glock Merchant
Multiple sources also confirm that a few years ago, Hajj Majid brought into Lebanon, along with the cigarettes, rugs, and Iranian merchandise, a large shipment of Gen4 Glock pistols with the intention to sell. Assisting Hajj Majed in his dealings is a man by the name Nour Shaalan whom was accused 5 months ago by Hezbollah of embezzling 5$ million and was jailed for several days by their protection unit headed by a corrupt person from Awada Family from Kfardounin. Majid However intervened personally using his influence and relations with the Iranians; Hezbollah released him promptly as he returned to his work. In addition to Shaalan, Hajj Majed is also assisted by Mohamad Bazzal whom is known within the inner circles by 'Hajj Moueen'. Mazloom concludes: "Finally, the stench of corruption spread to wide that it embarrassed the Secretary-General"; that is especially after some Christian steel merchants complained about the smuggling of Iranian steel and how it was affecting their business. Nasrallah then requested limiting these activities, but Mazloum didn't bother as he counted on his strong Iranians and Syrian relations.
Read more: When Hezbollah's Resistance Becomes the Authorities Security Force
Sources say that the Iranians intervened quickly to protect him. In a message by the Iranians to all whom it concerns, Hajj Majid was seen mediating between Syrian President Bashar al-Assad and Iranian President Hassan Rouhani during Assad's latest visit to Iran. Mazloum concludes his post by saying: "This is just the tip of the iceberg concerning the corruption within the ranks of Hezbollah whom are described by Nasrallah as the honorable Jihadists; and there are still many more."