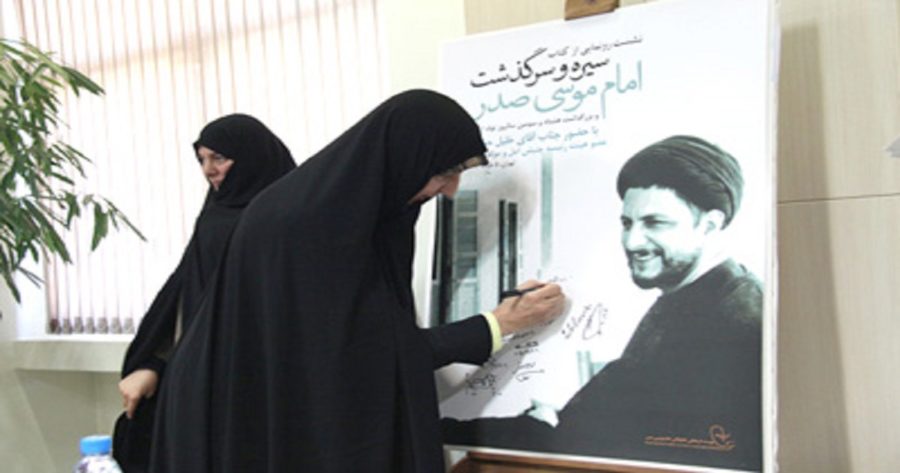 journalist Salwa Fadel wrote an article around the criticism of Hezbollah community towards Rabab al-Sadr upon her participation in the Imam Mousa Al-Sadr's honorary ceremony held by the Saudi embassy and not other participants namely AMAL.
What are the motives that drove the Saudi embassy to honor Sayyed Mousa Al-Sadr more than four decades after his abduction? The third cultural forum was held under the patronage of the Saudi embassy's acting affairs officer Walid Al-Bukhari, amidst the participation of a number of Sunni, Shiite, and political figures of various affiliations; prominently Rabab Al-Sadr Sharafeddine, the sister of Al-Sadr, and the representative of Speaker Nabih Berri MP Ayoub Homayed.
However, activists and the public of Hezbollah did not let this participation go by without criticism, but rather raised the issue in the media. Other activists close to AMAL stated that the participation of MP Ayoub Homayed has nothing to do with AMAL, as his participation was that of a representative of Speaker Nabih Berri and not AMAL. In a phone interview by Janoubia, Homayed stated: "I do not see what you are asking. Whoever brought up these allegations is free. We participate in all ceremonies as we are proud of our Islam and heritage, and we do not boycott anyone and never will. We are advocates of dialogue, conversation, and convergence."
Concerning the role that Berri can play between the sides of Hezbollah and Saudi Arabia, Dr.Homayed replied: " We are not obliged to play such a role, we practice our own convictions and work according to the philosophy of convergence because to diverge is always negative." And finally he added: " We are not mediators here, nor are we responsible of conveying any messages."
One informed source told Janoubia that: " All that happened in the Saudi embassy was in coordination with parliament speaker Nabih Berri. Mrs. Rabab Al-Sadr already has a close relationship with the Saudi affairs officer, and I do not believe Berri has any role in mediating the tensions between Hezbollah and Saudi Arabia."
Former MP Nazih Mansour however, after raising such questions on Facebook, assured Janoubia that had he known the context of these activities, he wouldn't have raised the questions on social media. He also added that: "Such meetings do not cause issues between Hezbollah and AMAL since their relationship is very solid…. When it comes to foreign affairs they each have their own orientation, but always remain unified on internal matters."
"However, concerning the relation between Hezbollah and Saudi Arabia the issue has gone beyond internal matters, and it will not reach the point where Berri has to play the role of the mediator. The dispute is bigger than all the parties, and the issue will not be resolved through Berri," Mansour continued.
In response to the question whether these meetings will play a role in reducing internal issues, Mansour answered: "Hezbollah and Future movement both are not tied completely to external issues. However, as a law specialist, I believe the solution to these tensions is linked to US-Saudi relations on one hand and Iran on the other."
Meanwhile Shaikh Mohamad Ali al-Haj said that "Some Shiite opinions exaggerated and gave this ceremony additional dimensions. According to my knowledge, this is the third activity performed by the embassy, and it was a tribute to Musa al-Sadr only as a part of a series of cultural activities done by the embassy. However, it took a negative turn when people started criticizing participants. All of this has stemmed from the recent position taken by Moqtada al-Sadr in his call for Bashar al-Asad to step down. The honorary of Musa al-Sadr seemed to coincide with the statement made by Moqtada al-Sadr which led the public to link between the two events causing them to claim that Moqtada is being paid by Saudi Arabia."
The participating parties included AMAL movement represented by Dr. Ayoub Homayed, Mrs. Rabab al-Sadr and Raed Sharafeddine representing the family of Musa al-Sadr, the Shiite council represented by Shaikh Hassan Sharifa, and the Shiite opposition represented by Ibrahim Shamseddin, Dr. Harith Sulaiman and Malik Mroue. The participants were not unilateral and represented different affiliations, whereas the main absentee was Hezbollah.
Al-Haj concludes by saying: "The question that now arises is whether the supporters of Hezbollah do not dare to criticize Nabih Berri, and instead went on to criticize Rabab al-Sadr, Raed Sharafeddine, and the family of Musa al-Sadr on social media."