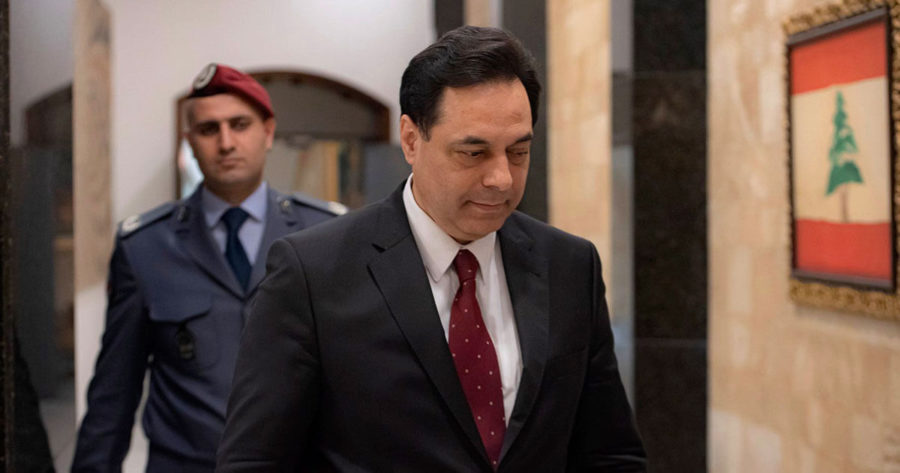 Following his speech yesterday, Tuesday, in which he blamed the country's collapse on the international community, diplomatic sources revealed to "Al-Sharq al-Awsat" newspaper, that "the caretaker prime minister Hassan Diab's speech yesterday was met with resentment by diplomats and ministers who were present during the meeting at the Grand Serail."
Sources indicated today, that "the ambassadors unanimously agreed that Lebanon means a lot to their countries, and there was a common sentiment between them that they did not spare any measure in preventing the collapse. In fact, it is Lebanon that did not pursue any Financial or administrative reform, nor did they negotiate with the "International Monetary Fund". They also highlighted Lebanon's failure to pay its sovereign debts in foreign currency (Eurobonds).
The United States Ambassador to Lebanon, Dorothy Shea began the deliberation with her response to Diab's speech holding him government accountable, saying: "We do not take or wait for requests for aid. We aid an assist the army and civil society, and we have been increasing our contributions." She noted that: "The government bears responsibility for not helping itself or implementing any reform program." The political authority refuses to form a new cabinet, against the pleas of the United States.
French ambassador, Anne Grillo, also elaborated in her response and stressed that the Lebanese authority did not help itself at all; pointing out that French President Emmanuel Macron visited Lebanon after the explosion of the port of Beirut, extended a helping hand and developed a road map for Lebanon to abide by. However, no commitment was followed through on. There was a commitment using words alone, and no action, as the government did not implement any steps toward reform such as forming regulatory agencies. The borders were not shut to smuggling operations which depletes subsidies, according to the Lebanese themselves. On the contrary, the international community did not falter at all!"
Sources explained that the ambassador also stated that her country has supported civil society organizations and provided humanitarian, medical, and educational support, and that she trusted civil society organizations in the midst of the prevailing corruption in the country. She also said that the responsibility lies on the political class, and that despite the need for an new government, the caretaker government should not abandon its responsibilities.
As for the "Chargé d'affaires of the British Embassy, ​​Martin Longden, his response was more violent as was the response of the European Union ambassador, Ralph Tarraf. Tarraf asked that the responsibility not be placed on the international community which did not falter, and he asked: "Are we responsible for the collapse of the country and the increase of the number of families that dropped below the poverty line? Where are the reform plans or the border protection?
The Kuwaiti ambassador to Lebanon, Abdul-Aal Al-Qana'i, reiterated that the Arab countries did not disappoint Lebanon, pointing out that his country supported projects funded by the Kuwaiti Fund and the Islamic Fund, and he also mentioned that Kuwait offered assistance to rehabilitate the electricity network, which was met with a total absence of response. He stressed that his country: "supports reform and supports the formation of the government today before tomorrow."